The Bitten Peach: Asian Queer Spaces explores the intersectionality of Asian and queer identities within the urban space and emphasizes the importance of queer space within the city.
Racism and xenophobia are present in the built environment of cities, where the design and planning of the city can perpetuate racial segregation and discrimination. Historically, zoning laws and land-use policies have been used to restrict where people of different races could live and work, leading to segregated neighborhoods. Many of the artworks featured in The Bitten Peach were inspired by the artists' experiences of hardships in the built environment and and their identities as part of the Asian diaspora. Their perspectives have long been neglected. There is a lack of representation in the media and public spaces, which can further perpetuate stereotypes and make it difficult for Asian queer individuals to feel a sense of belonging in the built environment. Asian Arts & Culture Trust's mandate is to provide a platform and space where the voices of the Asian diaspora can be heard.
Despite the challenges, Asian queer individuals have been able to create vibrant communities in the built world. These communities may form around cultural centers, queer nightlife, or online spaces. Queer spaces are essential for the LGBTQ+ community to gather, celebrate, and express themselves freely, whichs plays a crucial role in the formation of queer culture and identity. The existence and growth of these cultural spaces are at the core value of the multiculturalism and diversity of Toronto. The Bitten Peach's focus on Asian queer identities and experiences within urban spaces highlights the significance of queer spaces in urban environments. By acknowledging the challenges faced by underrepresented communities in urban spaces, this exhibition promotes the creation and preservation of queer spaces that are safe, inclusive, and welcoming to all.
Moreover, The Bitten Peach's emphasis on decolonizing queerness and challenging the Western-centric cultural canon in queer theory is also relevant to the development of queer spaces within urban environments. By recognizing and valuing diverse perspectives and experiences, urban planners and policymakers can regulate and protect queer spaces that are truly inclusive and representative of the LGBTQ+ community.
Artists: Sidi Chen, Geoffrey Cheung, Joni Cheung, Makoto Chi, Imran Jatoi, Marisa Müsing
Organized by the Asian Arts and Culture Trust. AACT is a Canadian federal not-for-profit organization that provides public programming to increase empathy, appreciation, and representation of Asian heritage, arts, and culture in Canada.
This exhibition is produced with the support of the City of Toronto through Toronto Arts Council.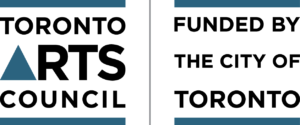 Sponsored by:

Curated by:
Asian Arts and Culture Trust