EXHIBITION OPENING RECEPTION: Thursday, January 19,  5 – 7PM
EXHIBITION CONTINUES TO MARCH 25
The sixth venue for this national touring exhibition, Urbanspace Gallery at 401 Richmond Street presents Kenojuak Ashevak: Life and Legacy. An icon within Canadian art history, Kenojuak Ashevak (1927-2013) was a first generation Inuit creator and one of the founding members of West Baffin Cooperative, an organization critical to the establishment of a visual arts industry in Kinngait (formerly Cape Dorset), Nunavut. An acclaimed creator, Ashevak was also a vital community leader and civic changemaker having established the creative expression of Kinngait as a major international cultural force while at the same time shaping the visual arts into a robust, local, economic support structure.
Since its inception, artmaking in Kinngait has uniquely demonstrated a successful confluence of community, culture and commerce. For more than six decades, the West Baffin Cooperative has supported the creation of artwork through its internationally celebrated Kinngait Studios. One of the oldest and most important fine art studios in the country, the drawing, prints and sculpture created by its artist members are exhibited and collected worldwide. From its foundational years, to the maturity of today, West Baffin Cooperative remains one of the earliest and most sophisticated examples of a social enterprise structure – one that has always remained community-owned and Inuit-led.
Kenojuak Ashevak: Life and Legacy at Urbanspace Gallery celebrates the contributions of a seminal Inuit creator, while at the same time illustrates an important narrative of community building, cultural resilience and creative transformation through the arts.
The exhibition is accompanied by a 112 page, fully illustrated hardcover publication, containing a foreword by Silaqi Ashevak and essay by Leslie Boyd, published by the West Baffin Cooperative and available at Swipe Design Books + Objects in Studio B-04 in 401 Richmond.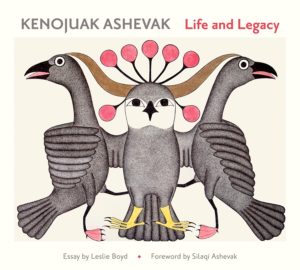 In celebration of this important exhibition, West Baffin Cooperative has made available for purchase one of only five previously unreleased print editions by Kenojuak Ashevak. Created in 1994 the lithograph Tattooed Spirit Takes Flight is available through Simon Bentley Fine Art located in Studio 133 in 401 Richmond.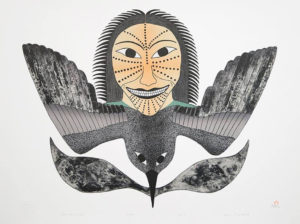 Tattooed Spirit Takes Flight
About West Baffin Cooperative
Established in 1959, West Baffin Cooperative has enjoyed an international reputation for the exquisite prints, drawings and carvings created by its Inuit artist members. In addition to operation of the Kinngait Studios at the Kenojuak Cultural Centre in Kinngait, the cooperative maintains a Toronto marketing division office, Dorset Fine Arts, which is responsible for interfacing with galleries, museums, cultural professionals, Inuit art enthusiasts and the art market globally. The role of West Baffin Cooperative has significantly expanded to include communications, promotion, advocacy, government relations and special projects as related to the Inuit art of Kinngait. Governed by an all-Inuit Board of Directors, the organization also maintains a local retail grocery/hardware store, a restaurant, rental properties and various utility contracts. As a community owned organization, practically all Kinngait adults are shareholders, profits are distributed back to the community in the form of annual dividends.
This exhibition is generously supported by the Government of Canada through the Department of Canadian Heritage and the Government of Nunavut through its Department of Culture and Heritage.
Community Connectivity Partner: 

Curated by:
West Baffin Cooperative