Introduction
Old ideas can sometimes use new buildings. New ideas must come from old buildings.
—Jane Jacobs,
The Death and Life of Great American Cities
Redevelop, reuse, repurpose, recycle, repair… At the moment, the prefix "re-" is a quickly growing element of design vocabulary.
The OCAD University graduates included here know this well. Approaching the city from a variety of fields – environmental design, graphic design, and mixed media art – they draw out new ideas from old places. Whether by subtly shifting the economic and social contents of a building, radically reinterpreting the built form of a site, or even recording unusual insights about a neighbourhood, these projects present alternative visions of Toronto without abandoning the assets that exist in the living, breathing Toronto around us.
Starting from scratch as an architect or planner may be heroic, but it often also means throwing the baby out with the bath water. Instead, like a trusted colleague peering over the shoulder of a writer or mathematician at wits' end, these designers and artists simply offer a set of fresh city-building eyes, and continue to revision some of Toronto that already exists.
Workshop @ 158 Sterling Road
by Joel Anderson
Our children don't know the difference between a flathead screwdriver and a Phillips…and if they did know the difference, they wouldn't know what to do with it anyway.
The inspiration for "Workshop" came from my love for the beauty in found objects, and the satisfaction that comes from finding an old, forgotten object and making it like new again.
We buy new objects…they break…we replace them. Old, broken objects sit around, nobody enjoys them anymore. So you buy a new object, use it, connect to it…but do you really? Find an old one. One collecting dust in a basement, a garage, an attic. Fix it. Learn how it operates, how its parts move together, in harmony. Learn how to improve it. Alter its performance, for better or for worse. These objects cost very little, often are free, so there is not much risk of taking them apart, trying to put them back together. Often these objects have much more character than a brand new object. So why throw them away?
Newsies
by Michelle Bialy
Reformers battled to discourage newsies from selling papers because they thought child labour was wicked.
As if through the fog of time, these encaustic (wax) paintings show a past before instant electronic communication.
As the 19th century turned into the 20th, street urchins called "newsies" sold newspapers on street corners to make a few pennies. Newspapers were how people found out about the world. There was no television, few telephones, no "hand-held devices." Communication was mass communication, a one-way street where the views of the newspaper barons like William Randolph Hearst and Joseph Pulitzer shaped, and sometimes reflected, public opinion much as Fox News tries to do today.
When you're walking in Toronto, and are not staring at a screen in the palm of your hand, look around and try to imagine what it was like here a hundred years ago.
Mutable Structures
by Monica LaFlamme
An alternative, collective living space on scaffolding
This project explores alternative, collective living spaces through adaptive re-use of the abandoned silos of the old Victory Soya Mills. The silos were abandoned because of the high cost of construction work on concrete structures of this scale. However, the silos were not forgotten – for some time they had been inhabited by a group of squatters. Squatters challenge the idea of property ownership and the lack of affordable housing by occupying abandoned spaces.
I have proposed a grassroots housing model. It consists of a scaffold system that acts as an infrastructure enabling people to inhabit the outside of the silos and build a vertical community of individual shelters. The design is based on a do-it-yourself model. All construction materials are sourced locally, recycled and light-weight.
Additionally, the interior of the silos are utilized as bio-digesters, as well as storm water runoff collection filtration cisterns. Through anaerobic digestion, the bio-digesters break down biodegradable material to create compost and produce methane gas. Water pollution carried by precipitation is filtered, then used to replenish underground water reservoirs.
Two Hundred and Forty
by Miriam Olszewski
Through photography and design I wanted to show Toronto in a new perspective.
I photograph the city of Toronto.
It seems most people hardly relate to the city, or they say it's not really as wonderful as New York. I wanted to change this perspective of the city and show residents and tourists as well that there are many hidden areas around the city we seem to miss. We may pass by an alley thousands of times on our way to work and never notice there's a small coffee shop just tucked away there.
There are 240 neighbourhoods in the city of Toronto. I chose five areas (The Annex, Yorkville,  Harbourfront, Leslieville and Roncesvalles) for a series of zines.
Collaborative Renewal
by Veronica Orozco
This is a collaborative initiative designed to renew relationships, community and the environment through working together to build a dynamic, sustainable community.
The A. R Williams Machinery Building at 80 Lynn Williams Street in Liberty Village offers an opportunity for low income families to relocate to a moderate up-and-coming neighbourhood. Fusing families with current residents of the community and introducing artists back into the area will allow this assortment of people to regenerate the neighbourhood, exploring relationships between people, cultures, community and sustainability.
Housing includes two types of units: family and studio, as well as central social spaces for maximum interaction among neighbours. The recreation sector occupies the entire first floor. With three access points to a central gallery atrium, the spatial planning is designed to encourage the community to approach and interact with the site and its users.
Alexandra Park Coop Housing
by Maxim Pravosoudov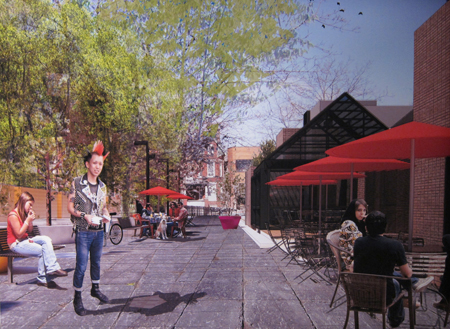 Urban dwellings are more than just housing. Dwellings link to traffic, public facilities, green spaces, and impact the fundamental interactions among a city's inhabitants.
Social housing is an underdeveloped sector in Canada, and is in crisis. Its establishment and re-development is heavily associated with political ambitions, which structures developments in a way that is more responsive to four or eight year electoral cycles rather than the long term, sixty year cycles of social housing projects.
Planning and architectural approaches need to be progressive and sensitive to site-specific patterns of growth and leadership, building on the established forms of social infrastructure and offering residents opportunities rather than providing them with a cold, calculated formula based on the narrow parameters of formal urban planning.
Curated by:
Max Allen & Nate Storring